IndieDB.com
kicks off the 2nd annual
Indie of the Year awards
on December 1st. Within the upcoming 10 days of phase 1 you can nominate us as a
top 100
indie game. We'll compete against more than 1500 released indie games this year. From December 10th to December 20th voting booths are open for phase 2. If we make it to the top 100 until then you should vote for us again. The IOTY 2011 final results will be presented starting from December 24th as Editor's Choice Award and Player's Choice Award.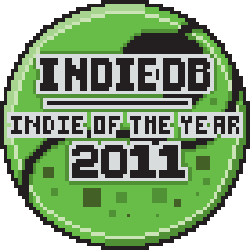 Check out our
IndieDB game profile
and click the big vote button. Make sure you are logged in to improve our chances . To see some statistics check the
scoreboard
. Same procedure as every year! Vote for us and tell your friends!