A few days ago ModDB announced their annual Mod of the Year Awards. Again, like previous years the event will proceed in three phases. Phase one has already started and runs until January 5th of 2010, you are able to nominate your favourite game mods and independent games titles of 2009 for the Top 100 Players Choice list. To do so, simply click on the vote button of a game or a mod profile. In phase two, starting from January 6th to January 21st of 2010, you can vote for your top 3 nominees out of the Top 100 Players Choice list. In early February, phase three of the event will showcase the Players and Editors Choice winners of 2009.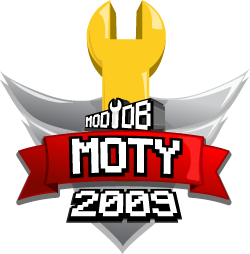 Again, due to the delay of WoP 2.0 and as written down in the event rules we won't make it into the Top 100 Players Choice list, even if we would have enough votes. That is why we ask you to pay more attention to the released mods for World of Padman like the
X-Mas WoP
mod. Check out the
WoP mods list
and if you want your mod listed there, simply add it.
We are sure the upcoming Mod of the Year Awards of 2009 will be exceptional, even without World of Padman. Prepare to vote your favourite mods and games.